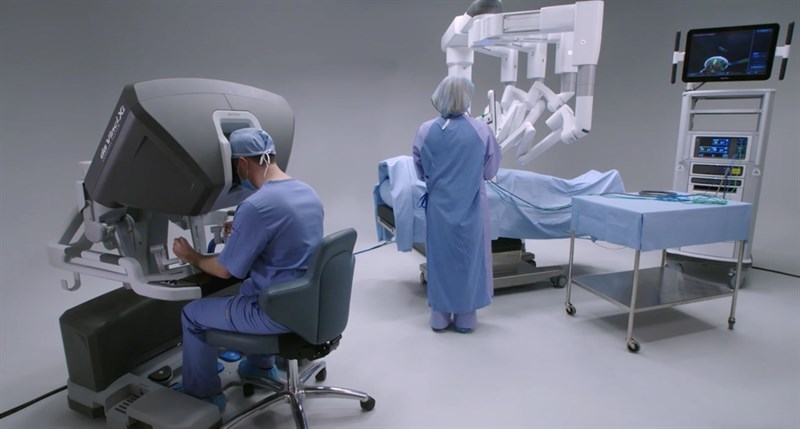 Robotic Surgery Suite consisting of a surgeon console with hand controls, a movable patient cart with robotic arms and the vision cart display Magnified 3-D HD Images Photo courtesy of Intuitive Surgical



UCSF thoracic surgeons are pioneers in the field of robotic-assisted surgery, a revolutionary advancement in minimally invasive surgery for treatment of benign and malignant tumors of the lungs, esophagus, mediastinum and chest wall.
Johannes R. Kratz, M.D., Director of Minimally Invasive and Robotic Thoracic Surgery and Van Auken Endowed Chair in Thoracic Oncology, leads a team of thoracic surgeons specially trained on the da Vinci® Xi, a state-of-the-art robotic surgery system. The da Vinci® Xi robot is now used for a wide array procedures in the UCSF Thoracic Oncology Program including lobectomy, wedge resection,segmentectomy, esophagectomy and metastsectomy.
The Department of Surgery has a strong institutional commitment to robotic thoracic surgery that includes comprehensive training of surgeons, credentialing, surgical mentorship, training of residents and fellows, and outcomes research, all aimed at refining surgical excellence and spurring innovation in the field.
Conditions Treated
Lung Cancer

Esophageal Cancer

Thymoma and Thymic Carcinoma

Thymectomy for Myasthenia Gravis

Chest Wall Tumors

Neurogenic Tumors

Carcinoid Tumors

Lymphoma

Barrett's Esophagus
How is Robotic Surgery Performed
Robotic surgery is performed in a specially designed robotic surgery suite consisting of a surgeon console with hand and foot controls controls and a 3-D HD viewer, a movable patient cart with robotic arms, and a vision cart that displays three-dimensional magnified color images.
The surgeon controls ALL movements of the robot. The robot cannot act autonomously, which is why the surgery is also called robotic-assisted. The surgical field is presented to the surgeon through the 3-D HD vision of the robot. The robot's "wristed" instruments move in tandem with the surgeon's hands providing unparalleled dexterity, precision, and control.
The patient, who is asleep under general anesthesia, is positioned on a movable cart about ten feet from the surgeon console. The surgeon makes several tiny incisions through which the operation is conducted. Robotic "arms", controlled by the surgeon, then pass a camera and surgical instruments into the patient including the EndoWrist®, an instrument that can bend and rotate with far greater than the human hand, utilizing 7 degrees of freedom and 90 degrees of articulation.
The hands of the surgeon move the arms and cameras of the robot. The robot provides the surgeon with far greater magnification of the surgical field and allows precise movements of the surgical instruments. At the conclusion of the surgery, the tumor and other tissue are removed through one of the incisions along with the surgical instruments.
| | |
| --- | --- |
| | |
| Surgeons hands operating the DaVinci Robot | Viewing the surgical field through 3-D HD vision |
Advantages of Robotic Thoracic Surgery
Robotic surgery is a major advance for thoracic surgeons who must operate in a small area bounded by the rib cage. The da Vinci® Xi surgical robot operates through small incisions. The only tissue cut is the skin since deeper tissues are spread apart gently. The da Vinci® robot rotates around a pivot point near the patient's ribs, minimizing physical pressure on sensitive nerves and tissues. This greatly lessens post-operative pain and speeds recovery.
The da Vinci® Xi surgical robot offers 3-D HD imaging and magnification, scalable motion, and 7 degrees of freedom in the manipulation of surgical "wrists" enabling unparalleled surgical accuracy. The robot is, in reality, an extension of the surgeon's arms and hands, providing him/her with the tools to perform intricate surgical procedures in tight angles and confined spaces.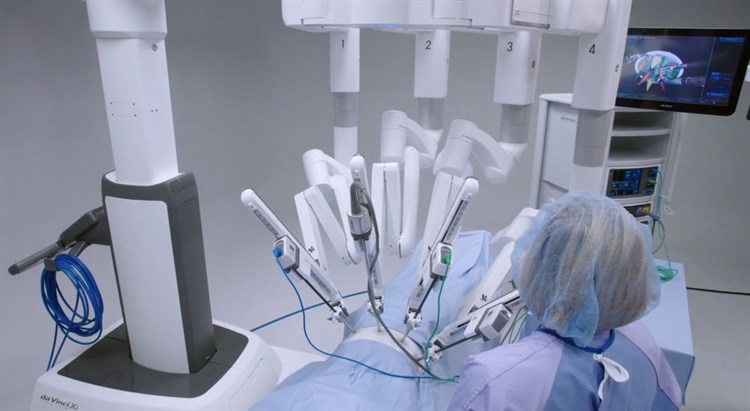 The four robotic arms of the da Vinci® Xi are positioned in place prior to surgery
Robotic Surgery vs. VATS
Robotic Surgery has key advantages over video-assisted thoracic surgery or VATS, the traditional minimally invasive approach used by thoracic surgeons. VATS delivers only 2D images of the operating field to the surgeon and requires the use of long rigid surgical instruments. Surgeons using VATS lack the depth perception they have with the robot which provides 3-D images. And the robot uses flexible instruments that both simulate the human wrist and greatly surpass it in dexterity.
An open surgical approach or VATS may still be the appropriate choice for some patients depending on specific cirumstances. UCSF thoracic surgeons have a deep understanding of and extensive experience with each approach and will recommend the best fit for the patient.
Benefits for Patients
The benefits of the da Vinci® Xi robotic system are numerous and include:
Very small Incisions - Of the three major surgical approaches used by thoracic surgeons today, robotic surgery is the only one in which tiny incisions are exclusively used. This results in less scarring and leads to a faster recovery from surgery.



Less Blood Loss - a more technically precise surgery means less blood loss and fewer blood transfusions
Less post-operative pain - The chest wall is a very sensitive area where surgery can easily inflame the nerves. The good news is that incisions used in robotic surgery are made in the lower part of the chest where space between the ribs is greatest, thereby greatly lessening post-operative pain.
Shorter hospital stay - robotic surgery reduces the length of hospital stays. In some cases, the patient 

an be discharged in as soon as 1-2 days after surgery

More precise assessment of lymph node involvement and operative staging - The da Vinci® Xi allows for a more thorough dissection of lymph nodes that is used to "stage" or determine the extent of the cancer. This information is critical to getting an accurate prognosis and guiding treatment decisions.  
Why
Choose UCSF for Robotic Thoracic Surgery
Top Rating for Lung Cancer Surgery - UCSF Medical Center earned a "high performance" rating – the highest rating possible – for lung cancer surgery in the most recent U.S. News & World Report Best Hospitals survey.
Seamless Multidisciplinary Care - The Thoracic Oncology Program offers seamless multidisciplinary care to patients. Surgeons work as a team with other specialists including medical oncologists, radiation oncologists, pulmonologists, radiologists, and pathologists.
Enhanced Recovery after Surgery (ERAS) - UCSF has a special program for patients designed to enhance recovery after thoracic surgery. This includes a faster recovery, shorter hospital stay, and safer more effective pain management. Thoracic

 surgeons, anesthesiologists, hospitalists, and nurses use the latest evidence-based protocols to provide state-of-the-art innovative peri-operative care. 

Dedicated Nursing Team - UCSF has a dedicated robotic thoracic surgery nursing team skilled in all key aspects of robotic procedures.
Precision Medicine - UCSF offers early-stage lung cancer patients who have undergone surgery a novel molecular test it has developed that differentiates ultra-low risk patients who do not need additional treatment from higher risk patients who might benefit from additional therapy. 
Related Video


Follow the journey of a UCSF patient with early-stage, high-risk lung cancer, from history to treatment and prognosis, including how surgeons chose to do a robotic assisted VATS lobectomy and an analysis of how well chemo is likely to work for her.