The Division of Cardiothoracic Surgery comprises four distinct clinical programs, specializing in Cardiac Surgery, General Thoracic Surgery, Heart Transplantation, and Lung Transplantation. Our Thoracic team leads the multidisciplinary Thoracic Surgery & Oncology Program, which is based at the UCSF Helen Diller Family Comprehensive Cancer Center at the Mt. Zion campus. Meanwhile, our Cardiac team is responsible for key leadership roles at the UCSF Heart and Vascular Center and the Intensive Critical Care Service Units at the UCSF Helen Diller Medical Center at Parnassus Heights.
Delivering Personalized Patient Care & Exceptional Outcomes.
We take pride in serving the San Francisco Bay Area communities and delivering exceptional services to our patients at multiple locations, including UCSF Parnassus Heights, Mt. Zion, Mission Bay campuses, San Francisco Veterans Affairs Medical Center (SFVAMC), Zuckerberg San Francisco General Hospital (ZSFG), Washington Hospital Health Care System (WHHS), and MarinHealth. Our reputation for excellence in the clinical setting, coupled with our stellar outcomes and dedication to providing concierge customer service, serves as a testament to our patients' decision to seek care at UCSF.
Nurturing Future Leaders of Cardiothoracic Surgery
Our Division hosts a prestigious Accreditation Council for Graduate Medical Education (ACGME)-accredited residency program in Thoracic surgery, which offers comprehensive training in Cardiac Surgery, Advance Heart Failure, Pediatric Cardiac Surgery, Thoracic Surgery and Oncology, and Lung Transplantation. Our graduates are highly sought after by leading academic institutions and organizations across the country.
Driving Research and Discovery
Our unwavering commitment to research and discovery in areas such as heart failure and lung cancer is best exemplified by the Cardiac Biomechanics, Cardiothoracic Translational Research, and Thoracic Oncology Laboratories. The Cardiothoracic Surgery Division is proud to collaborate with industry partners and the National Institutes of Health in translating clinical discoveries into practice, where such work holds tremendous value.
Leadership and Service to Community and Colleagues
Our executive and management team, academic and clinical staff are dedicated to serving our community, faculty, and academic colleagues. Our Division has received numerous accolades for excellence in patient care, teaching, research innovations, and administration.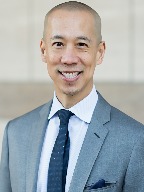 Tom C. Nguyen, M.D., FACS, FACC
Professor of Surgery
Chief of the Division of Adult Cardiothoracic Surgery
Minimally Invasive and Robotic Heart Surgeon
Helen and Charles Schwab Distinguished Professor of Surgery
Co-Director, Heart and Vascular Center