Amanda Sammann Pays Tribute to Patients with Hand-crafted "Stem to Stern" Heart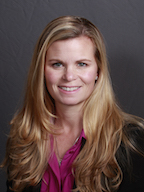 UCSF Department of Surgery at Zuckerberg San Francisco General - by
- March 14, 2017
Amanda Sammann, M.D., M.P.H., Executive Director of The The Better Lab, and an Assistant Professor of Surgery based at ZSFG, has contributed a work to the Hearts of San Francisco, a public art installation started by the San Francisco General Hospital Foundation in 2004. Dr. Sammann's hand-crafted heart, called "Stem to Stern," powerfully memorializes the patients she served as a resident at San Francisco General Hospital a decade ago – and serves as a poetic homecoming to the institution where her career as a physician began. The Better lab discussed her contribution in a blogpost on its website.
If you live or hang out anywhere around San Francisco, you've seen the hearts. Big, beautiful hearts mounted throughout the city, each depicting a different image or pattern, each with a story to tell. Hearts in San Francisco is an annual public art installation started in 2004 by San Francisco General Hospital Foundation. Artists from around the world have painted the hearts, which are sold at an event benefiting the hospital each year. The project has raised more than $15 million for the hospital and its new trauma center.

This year, The Better Lab Founder Dr. Amanda Sammann has contributed a heart, and – all subjectivity aside – it's super-cool. Yes – this is when you discover that Sammann, a trauma surgeon and Assistant Professor of general surgery at UCSF, has hands not only skilled in the art of saving lives, but in creating uniquely delightful expressions of her experiences.......
The story of that personal and professional journey comes to life in Sammann's tender and compelling work: a tabletop heart created from the medical notes she had written and saved for a decade about her patients during her residency, each sheet representing a list of tasks from a night or day on call. She folded each one into a paper flower. Sammann's heart is a collage of these hand-folded flowers, called "Stem to Stern." The term is a nickname for a large surgical incision, one often used in transplant surgery when you're taking organs from donors, which Sammann says is "the ultimate gift."