Meet Amy G. Fiedler, M.D., New Cardiac Surgeon at UCSF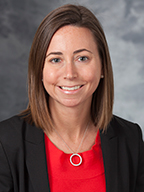 UCSF Department of Surgery - June 23, 2022
Amy G. Fiedler, M.D., will be joining our faculty as a Cardiac Surgeon and Assistant Professor of Clinical Surgery in the Department of Surgery. Dr. Fiedler comes to UCSF from the University of Wisconsin, Madison, where her clinical practice is focused in heart failure and transplantation and mechanical circulatory support.
Dr. Fielder is a graduate of Georgetown University, where she received both her Bachelor of Science in Biology and her Master's degree in Microbiology and Immunology. For medical school, Dr. Fiedler attended The George Washington University and completed both her general surgery and cardiothoracic surgical training at Harvard Medical School, Massachusetts General Hospital. During her time in training, she took a two-year research sabbatical at The Brigham and Women's Hospital, where she studied surgical, non-transplant treatment options for the management of heart failure in a large animal model.
Following her time at MGH, she joined the faculty at Wisconsin as an Assistant Professor; there, she serves as the Chief of Cardiac Surgery of the W. Middleton VA Hospital, Associate Program Director of the cardiothoracic surgery residency program, and Associate Director of Mechanical Circulatory Support. Dr. Fiedler has received research grants to support her outcomes and translational research work focused on expanding the donor pool for heart transplantation. She specializes in the care of patients with end-stage heart failure, including mechanical assistance and heart transplantation. In addition, Dr. Fiedler has broad experience with all aspects of adult cardiothoracic surgery, including coronary artery bypass grafting, valve repair and replacement, endocarditis, and the treatment of thoracic aortic aneurysms.
Dr. Fiedler has a passion for health, human rights, and global surgery. She serves as the surgical director of the non-profit organization Team Heart, which works to create sustainable infrastructure in Rwanda for independent cardiothoracic surgery. Furthermore, her leadership potential has been recognized by Presidents Bill Clinton and George W. Bush as she was selected as one of 60 scholars across the nation to join the Presidential Leadership Scholars (PLS) Class of 2020.